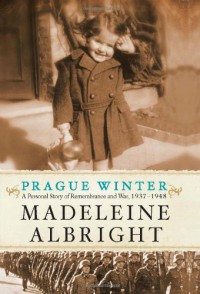 Prague Winter: A personal Story of Remembrance and war,
reads more like a well written history book than a personal story of rememberance and I was left feeling a little disappointed with this one as I was really looking forward to reading about the experiences of her family in Europe and while to some extent the book does give us an insight into her family history this is more a book that concerntrates on the politics of the War and Czech Republic's policital history. I did feel it read like a history book and the more I read the more I felt I was getting a history lesson and felt myself tuning out.
Unfortunately I chose this one as an audio book and it is read by the author Madeleine Albright and the narration was quite dry as the narrator reads in a monotone voice which really didn't add anything to the book and unfortunately at 50% I felt I just couldn't take anymore and parted company with the book. I would have switched to a hard copy but the book really wasn't what I was expecting so thankfully was able to return to audible.
An ok read and I did learn some interesting facts but this one proved a little dry for me and hence my 2 star rating.